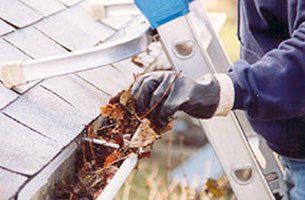 Everyone who owns a home knows how important it is to have clean gutters, but does anyone actually want to do the cleaning? It's one of the least-desired chores for most. You have to get up on a ladder (and borrow one if you don't have your own), reached in and grab all the mess and debris, and then dispose of it.
Instead, you could call an experienced professional that has the equipment to do the job efficiently. If you're in the area of Birmingham, AL, that means calling Perfect Panes LLC.
Quality Gutter Cleaners in Birmingham, AL
At Perfect Panes, we have two main ways of dealing with gutter cleaning. If you prefer, we can do it by hand. But we can also get on the roof and blowout the gutters with our hose pipe. Our professional blowers wear special roofing shoes that keep them safe on even the steepest of roofs. This will blow out all the grit, mud, and shingle rocks that get left behind when you clean it by hand.
Of course, once we're done blowing out the gutter, we'll blow your yard, deck, or driveway for free to make sure all the debris is gone, and everything is as clean as when we arrived. Plus, we have 32 and 40-foot ladders so we can access pretty much any residential roof.
Call Perfect Panes LLC in Birmingham, AL
Here at Perfect Panes LLC, we're a locally-owned family company that is both licensed and insured. We've been in business since 2005 and our co-owners have been working in this field for more than three decades. Over the years, we've developed a reputation in the are of Birmingham as an honest and dependable company that pays close attention to detail. If you're interested in getting a free estimate, give us a call at 205.369.4447.