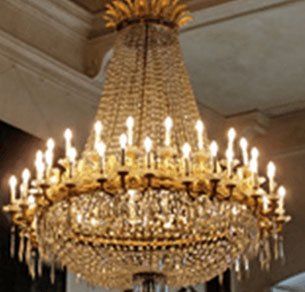 Some of the light fixtures in your home or business are likely difficult to clean due to their location and their intricate design. You spend a lot of hard-earned money on your chandelier, so of course you want to keep it clean. But do you really want to get up on a ladder and clean every part of the ornately designed fixture?
You probably don't, which is why you should call the professionals at Perfect Panes LLC. for all your light fixture cleaning needs.
Your Birmingham, AL Light Fixture Cleaners
We've been in business in the Birmingham, AL area for 18 years and our co-owners have more than three decades of experience in the field. In fact, many of our employees have been with us since the beginning, so experience is certainly a strength. We've cleaned all kinds of chandeliers – crystal, glass, and just about everything else.
When it comes to cleaning your light fixture, we'll get into every nook and cranny to ensure that it's cleaned to your expectation, no matter if it's inside or outside your home. We don't just a spray a cleaning product on it and leave. We detail every piece of the fixture by hand. Even if there are 1,000 crystals, we'll address them one at a time. In addition to chandeliers, we'll clean any light fixture or even ceiling fans. Just let us know what you need done!
Call Perfect Panes LLC in Birmingham, AL
As a locally owned family company, we're both licensed and insured. We're an honest and dependable company that's built up a good reputation over the years locally due to our attention to detail. Give us a call today 205.369.4447 to set up a free estimate.