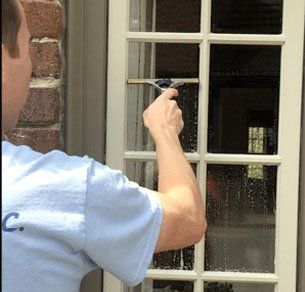 No matter what kind of view you have when you're looking out your windows, you want it to be a clear one. Whether you're looking out over a neighborhood, a backyard patio, trees and foliage, or even watching birds eating from a feeder, you don't want to see streaks, dirt, grim, or anything that obscures your view.
Still, cleaning windows properly can be difficult, especially if you have a second floor and no ladder to reach it from the outside. That's why you should trust the professionals at Perfect Panes LLC. for your next residential window cleaning job in or around Birmingham, AL.
Experienced Window Washers
Here at Perfect Panes LLC, we've been in business for 18 years, and our co-owners have worked in the field for more than three decades. Many of our employees have been with us since the beginning, So, experience is certainly a strength.
We have the best equipment on the market to ensure the job is done to the best of our abilities. We have 32-foot ladders and access to a 40-foot ladder so we can reach just about any residential window. The equipment we use is state of the art – not rags and paper towels.
We clean every inch of your windows – edges, corners, sides, bottoms. We use a shammy cloth to get to the areas that the squeegees can't. This allows us to get rid of the water that accumulates near the edges. We'll remove all cobwebs and other debris and leave your windowsills looking good as new too. We can also clean mirrors anywhere in your home if that's a service you're in need of.
Take Care of Your Windows
Window cleaning is not something you want to put off for too long. Glass is a porous material, meaning that pollutants, dust, pollen, spider droppings, and other things will eventually become permanently etched into the glass if you neglect cleaning for too long. Once this happens, nothing can be done about it except replacing the window.
We often see calcium build up and water stains become etched into glass from irrigation systems that spray onto windows, allowing the water to bake in the sun. This will require a hard water stain remover, which is a service we offer for an increased price due to how long it takes. Even then, we not be able to fully remove the etching. That's why it's so important to have your windows cleaned at least once per year.
Call Perfect Panes LLC in Birmingham, AL
While we mostly do residential window washing, we are available for commercial work as well. We're a dependable and honest company that's built up a good reputation among our customers over the year because of our attention to detail. If you'd like a free estimate, give us a call at 205.369.4447 today!